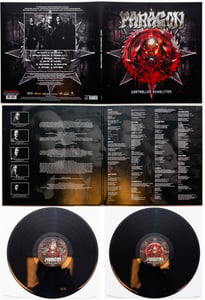 €

19.99
PARAGON - "Controlled Demolition" Black Limited and Numbered LP in Gatefold Cover with Lyrics. Limited to 300!
Side Controlled
01. Controlled Demolition
02. Reborn
03. Abattoir
04. Mean Machine
05. Deathlines
Side Demolition
06. Musangwe (B.K.F.)
07. Timeless Souls
08. Blackbell
09. The Enemy Within
10. Black Widow
If you want CDs or LPs be signed we can do it, but please be aware that it will maybe delay the shipping and we will have to open the shrinkwrap of the items.
All orders will be shipped tracked.
All items will be shipped after the release of the album on the 26th of April!